Trip Reports : Lake Rotoroa - D'Urville Valley - Moss Pass - Sabine Valley - Mt Cedric - Lake Angelus - Robert Ridge - Lake Rotoiti
Updated Updated 1st September 2010
By David Booth
Family Hiking in the Nelson Region, New Zealand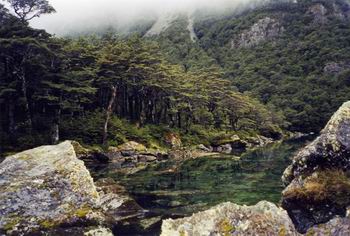 Blue Lake outlet
1. Nelson Lakes National Park ( 6 day circuit) 15-21 March 2004
After researching New Zealand south island hiking options in the Lonely Planet guide "Tramping in New Zealand" we decided to hike a circuit in Nelson Lakes National Park.
I was hiking with my wife Robyn and our 14 year old daughter Ineka and we opted to fly to Christchurch then hire a car to drive via Murchison to St Arnaud. We would stay in St Arnaud and leave the car there while we hiked. We chose to stay at the Yellow House, an excellent backpackers hostel, there are also other accommodation options in St Arnaud.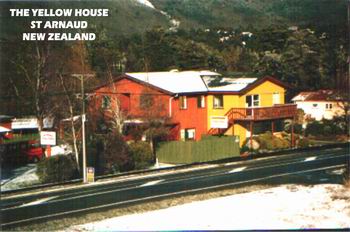 The Yellow House
Our trip was in early March, outside the school holiday period.
The Lonely Planet Guide provided enough details to make our hiking arrangements from home in Australia and to choose a suitable route that matched our experience.
The weather was kind to us. After snow and heavy rain the week before, our trip was in good weather, with some rain and low cloud.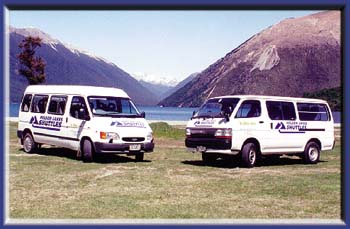 Nelson Lakes Shuttles
HIKE 1: Peter Kemp from Nelson Lakes Shuttles picked us up at the Yellow House and drove us in the shuttlebus to Lake Rotoroa, a distance of about 60 km. There we boarded a water taxi piloted by Kerry Simpson, of Rotoroa Water Taxis, who transported us the length of Lake Rotoroa speeding across 17 km of glassy water surrounded by lush forests.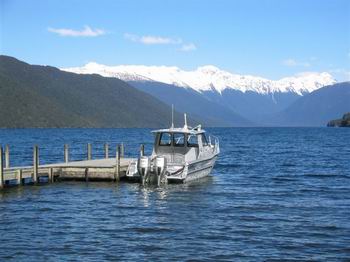 Lake Rotoroa Water Taxi
We landed at the D'Urville Hut jetty and after a quick look at the hut, started our hike.
Our plans were to hike up the D'Urville River Valley to Ella Hut (day 1) then over Moss Pass to Blue Lake Hut (day 2) then down the Sabine Valley to West Sabine Hut (day 3) then to Sabine Hut back on Lake Rotoroa (day 4) then climb steeply over Mt Cedric to Angelus Hut(day 5) then along Robert Ridge to St Arnaud (day 6).
Each day we had a comfortable hut to stay in, equipped with pot belly stoves, stainless steel sinks, running water and bunks to sleep in. What luxury compared with the lack of such facilities here in Australia. We carried a tent in case the huts were full, but we did not need to use it. The system is run by the Department of conservation and generally the huts cost $10 per person per night (some with less facilities are only $5).
The provision of these huts is a great safety feature as the weather can quickly change in the alps and having a hut for shelter for cook and drying your clothes makes the experience very enjoyable. They even have sandfly/mosquito screens on the windows. Pit toilets were also provided.
Waterfalls. Crystal clear water. Turquoise blue lakes. BLUE LAKES! Jagged mountains and glacier-carved valleys. Sandflies. Cloud. Rain. Waterfalls. Mossy beech forests. Excellent trails. Easy navigation. Did I mention the waterfalls?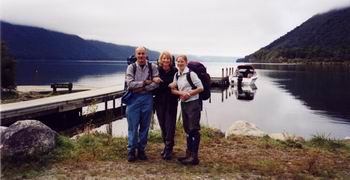 Lake Rotoroa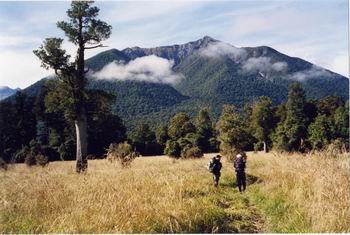 Near D'Urville Hut, looking towards Mount Misery
Day 1: From D'Urville Hut we gradually gained height along the broad D'Urville valley. The river was low. We passed the (new) Morgan Hut after around 5 hours and theD'Urville River narrowed and the canyon walls were steep each side.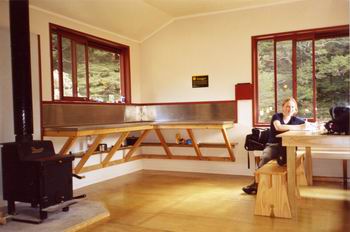 New Morgan Hut (with Pioneer Stove)
The scenery improved. We reached (older) Ella Hut at around 6.30 pm. There were 7 other residents and a crazy NZ card game was the local entertainment. It rained during the night. (day total 20 km, 8 hours)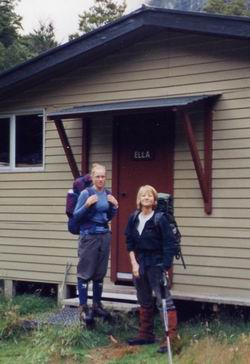 Ella Hut
Day 2: Leaving Ella Hut at 8.30 am in overcast weather, Ineka led the way. One hour upstream to the wire bridge crossing then a steep climb up a mossy chimney out of the myrtle and beech forest. There was a bubbling creek at the top where we joined a spur. We had lunch in cold, windy and misty conditions near a tarn, just before the scree slopes leading to Moss Pass.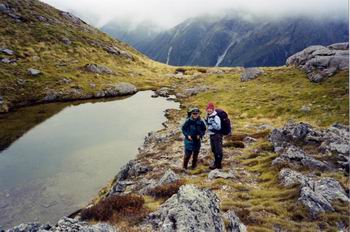 Tarn near Moss Pass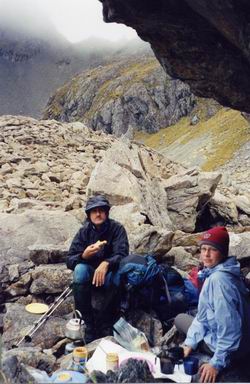 Lunch, Moss Pass in background
We crossed the pass at 1pm (and immediately plunged down a very steep notch. It was slow going until we emerged onto gentler slopes. It was cloudy and we didn't get much of a view. Eventually the shape of a lake was visible through the clouds. It was raining lightly and we were getting wet legs from the tussocks on the hill side. We arrived at the Blue lake hut at around 4 pm. It is the bluest lake I have ever seen, crystal clear and looked inviting to dive in, but the water was cold (see photo). In the hut, a coal stove (cunningly designed to go out if left unattended for 15 minutes) warmed us and there were a few other hikers enjoying the comfort. (day total 7 km, 7 1/2 hours)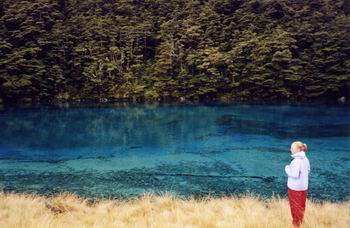 Blue Lake
Day 3: We explored Blue Lake and its feeder waterfalls before departing at 10.30 am in misty weather for West Sabine Hut. Ineka dashed ahead leaving the oldies to potter along on this easy day hiking down a pleasant valley of the Sabine River. Excellent trout fishing spots along this river.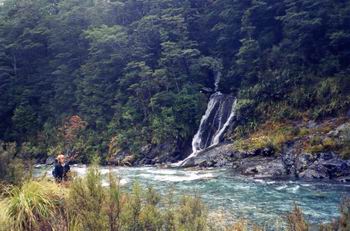 Sabine River Waterfall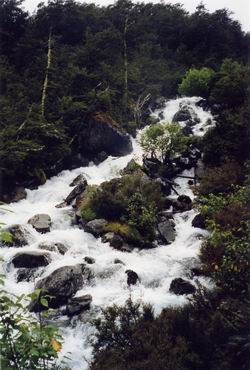 Another Sabine Waterfall
We arrived at West Sabine hut at 2pm. Another comfortable hut with only a few hikers that night. Most hikers we met were from overseas including English, Irish, German, Swiss, Israeli and Japanese visitors (day total 7 km, 4 1/2 hours)
Day 4: From West Sabine Hut the track follows the Sabine and just before reaching Lake Rotoroa a footbridge crosses high above the river. Another easy day. From the bridge you can look deep into the green water and see trout swimming around. This was a good spot for a rest before completing the hike to the Sabine Hut on the edge of the spectacular lake. Today we had some rain and we were welcomed by clouds of sandflies, wasps and hover flies. Even some sandflies inside the modern hut.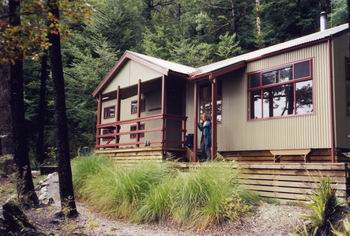 Sabine Hut
I Chopped some wood. The pot belly stove here is an excellent "Pioneer." The hut radio manual was strangely written in Hebrew. Met two elderly NZ gentlemen, experienced hikers, arriving from Angelus Hut in the rain and heading for Lewis Pass (8 days total). We also explored along the lake edge some hikers even went swimming at the "nude beach with sandflies". This hut gets a lot of use as it is accessible by boat but that night we only had 8 hikers in a 30 bed hut. (day total 15 km, 4 hours)
Day 5: Farewell to the lake and sandflies and a very steep hike up to Mt Cedric. The guidebook says more than 900 m climb in 4 km. It was cloudy and overcast. We saw a helicopter bringing trail maintenance staff. The climb was in forest then above the tree line it was cold and windy with only very occasional breaks to reveal views of the lake and the Mahanga Range opposite.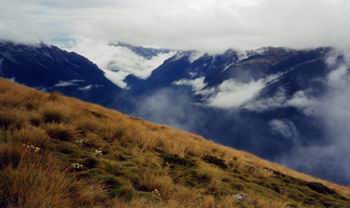 Mahanga Range
We had all our warm clothes on by the time we reached the summit of Mt Cedric.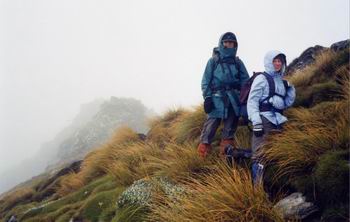 On ridge of Mt Cedric (1532 m)
We had cloudy conditions all the way along the rocky ridges leading to Angelus Hut. We arrived in mid afternoon and found a very crowded hut. There were two overnight commercial trekking groups hiking up from St Arnaud. The weather outside was cold and wet so we crammed 40 into a hut designed for 36. We observed some interesting international negotiations for bunk space with some pushy visitors grabbing spaces from less pushy others. Two of our friends preferred to hike on towards Bushline Hut making a very long day. After we somehow managed to cook our meal we settled in to the bunks. The snoring that night was fully stereophonic and stylistic. (day total 10 km, 7 hours).
Day 6: The morning weather was clear at first and we saw our first views of the Angelus Basin .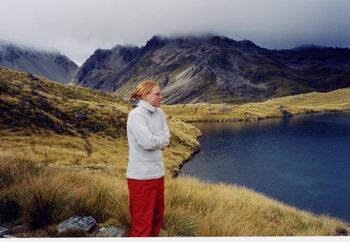 View from Angelus Hut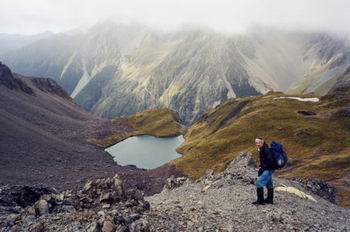 Along Robert Ridge
We climbed to Robert Ridge which is followed over Mt Robert (1421m) then the track descends steeply to St Arnaud. As we traversed the ridge the low cloud returned and we had windy cold conditions. We saw lots of day hikers and some trail runners as we neared St Arnaud.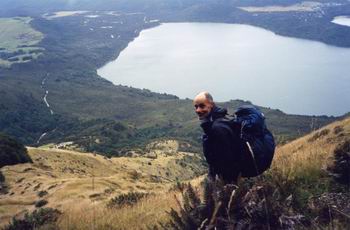 Looking towards St Arnaud
The track ends at a car park leaving 7 km road walk to St Arnaud. After we started along the road we were fortunately picked up by Yvonne, the manager of the Yellow House, who was trail running on her day off.
We enjoyed the hot shower at the Yellow House and had a fine meal at the cafe in St Arnaud, while noting the early closing of the store/service station opposite.
Next day we retrieved our car and headed for Nelson, then Motueka where we stayed in a Caravan park cabin. We checked out the Abel Tasman beaches, driving to Kaiteriteri then Marahau while Ineka went sea kayaking. We drove over the steep pass to the Takaka River valley and stayed at a beautiful country house near the coast at Pohara.
6th November 2004
David Booth
Carmans Man
Canberra Australia