Trip Reports : Mt Robert Carpark - Robert Ridge - Lake Angelus Hut - Mt Cedric - Sabine Hut - Speargrass Hut - Mt Robert Carpark
Updated 1st December 2011
By Peter Kemp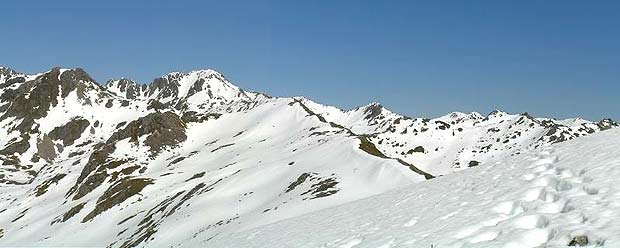 Robert Ridge Track
Introduction
This route is a better alternative to more popular Cascade route advertised in most guide books. See a useful description by the NZ Mountain Safety Council.. Very informative and well worth a watch of the video for preparation: click here to take you there.
The views along the Robert Ridge are truly spectacular. But on a fine day the route over Mt Cedric to Sabine is just stunning. Especially the view straight up the Sabine Valley to Mt Franklin. Also across to Mt Misery, Ella Range and the impressive Lake Rotoroa.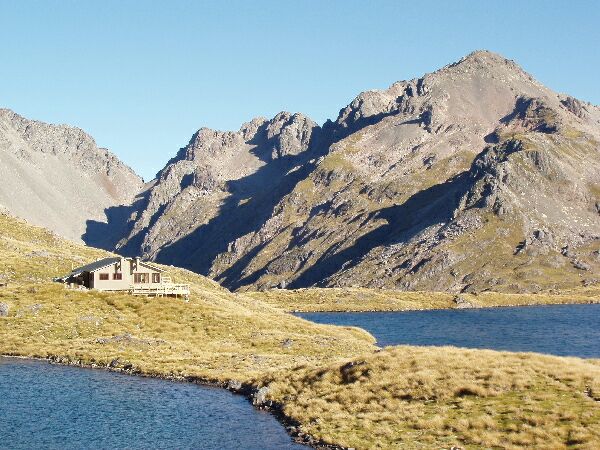 Lake Angelus, Angelus Hut & Mt Angelus (Richard Leppard Photo)
The route is well marked and is best tramped late November to May. It's easier to travel from Angelus Hut to Sabine Hut. As the track is very long and steep coming off Mt Cedric. Carry plenty of drinking water. As with the Robert Ridge there's no water along this route.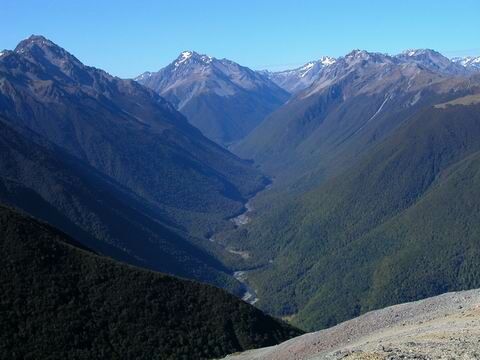 Sabine Valley (Dave Speedy Photo)
The trip can be completed 3-4 days. But for those on limited time a two day trip can be achieved by taking the Water Taxi out from Sabine Hut. Lake Rotoroa Water Taxis have a radio at the Sabine Hut and those on Vodafone can phone them direct (Phone 03 5239199). They will also arrange Nelson Lakes Shuttles to meet you at Lake Rotoroa Village. The best idea is to pre book the Water Taxi and Shuttle before you set off into the Park. Just in case the radio is vandalised or your cellphone doesn't work.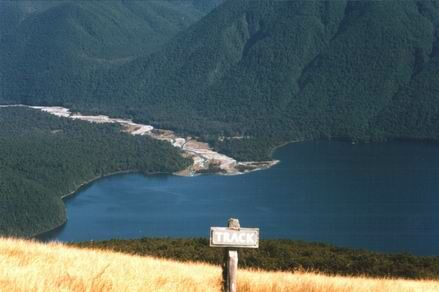 Lake Rotoroa & D'Urville River From Mt Cedric
Winter can be hard and dangerous in this area. Only those with mountain and ice skills should attempt this trip in winter. Carry a ice axe and crampons with the skills to use them correctly. The DOC Visitor Centre in St Arnaud can give you the latest snow and avalanche conditions (Phone 03 5211806)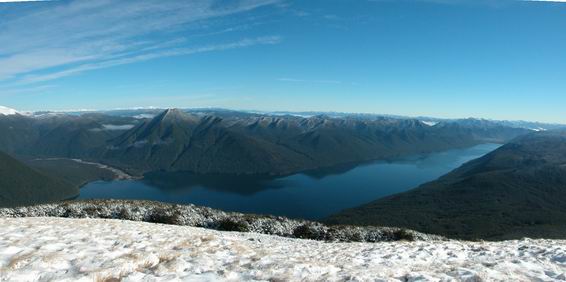 Lake Rotoroa From Mt Cedric (Photo Brian Duffy)
Unfortunately it's no longer safe to leave your car parked at the Mt Robert Carpark. Nelson Lakes Shuttles (Phone 03 5211900) can transport you to the Mt Robert Carpark for $15 per person. Lake Rotoroa transport is $25 per person.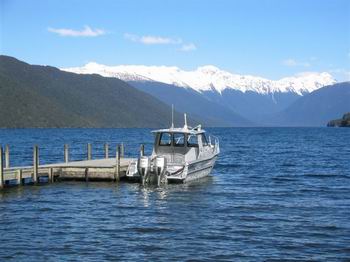 "Seamaster" Lake Rotoroa Water Taxi (Photo By Lake Rotoroa Water Taxi)
Mt Robert Carpark - Robert Ridge - Lake Angelus Hut - Mt Cedric - Sabine Hut - Speargrass Hut - Mt Robert Carpark
Mt Robert Carpark - St Arnaud Village 1.5-2.5 hours
Mt Robert Carpark - Lake Angelus Hut 5-8 hours (Via Robert Ridge)
Mt Robert Carpark - Lake Angelus Hut 6-8 hours (Via Speargrass Valley)
Lake Angelus Hut - Sabine Hut 5-8 hours
Sabine Hut - Speargrass Hut 5-6 hours
Sabine Hut - Lake Rotoroa village 6-9 hours (This track is no longer maintained and is very rough)
Speargrass Hut Mt Robert Carpark 2-3 hours
Mt Robert Carpark - St Arnaud Village 1-2 hours