Trip Reports : St Arnaud - Cupola Hut By Wendy From St Arnaud
Updated 1st February 2011

From St Arnaud April 2005
St Arnaud To Coldwater Hut
To save time we used the Lake Rotoiti Water Taxi. Bill Butters the friendly Water Taxi Operator was able to give us a lot of information on the park (new & old history). Before we knew it he had us at the Coldwater Jetty in no time.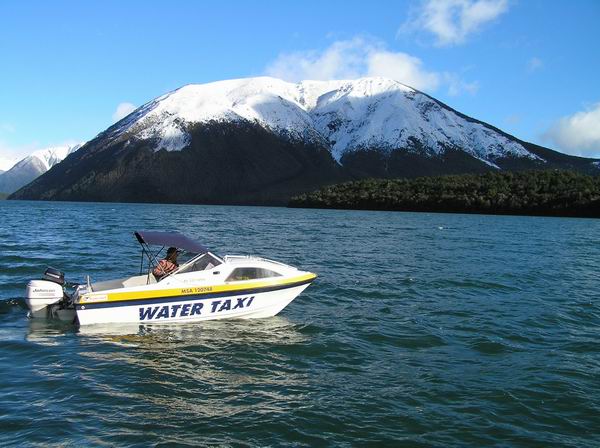 Lake Rotoiti Water Taxi
Coldwater to John Tait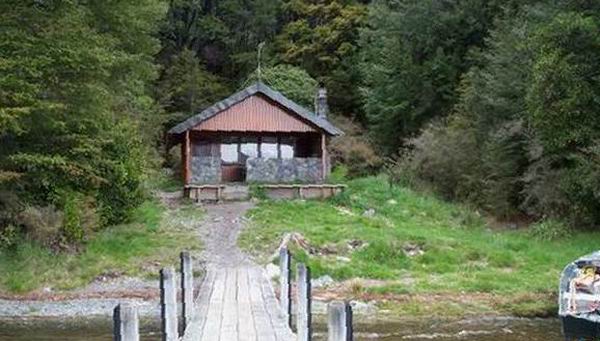 Cold Water Hut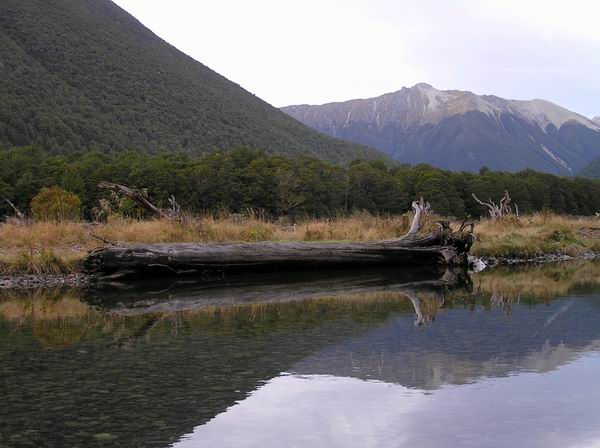 Travers River
Starting off at the quaint little Coldwater hut at the end of Lake Rotoiti, we strolled along the flat Travers valley beside the flowing river and in and out of clearings with Robins and bellbirds for company. It was a sunny, clear, typical autumn day with a slight coolness in the air that got you up and moving after a break. So nice to breathe in the fresh air and to smell the bush.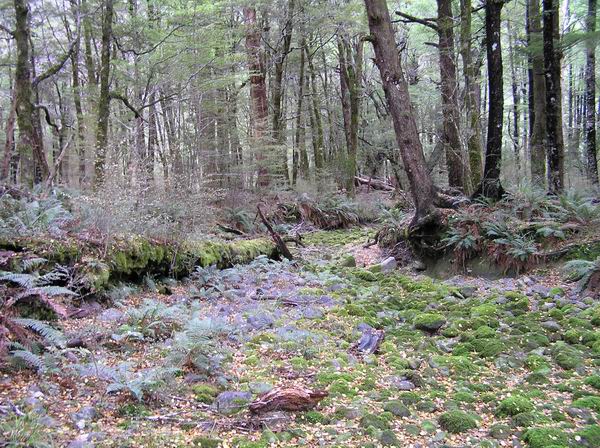 "Nature At It's Best"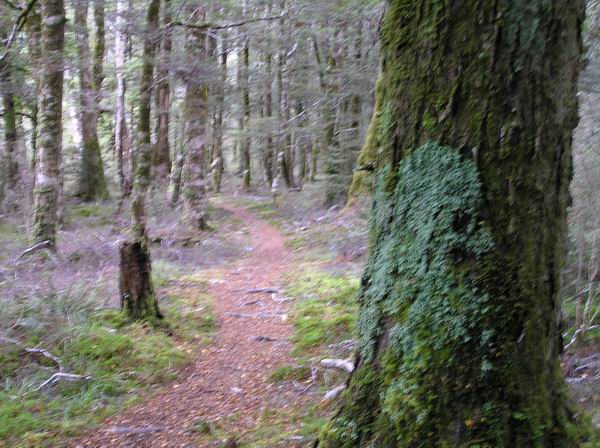 Travers Track
Two thirds of the way towards John Tait hut the flat track starts to go slightly up hill. John Tait hut is a welcome sight situated in the valley beside the Travers river in a cosy sheltered, sunny spot.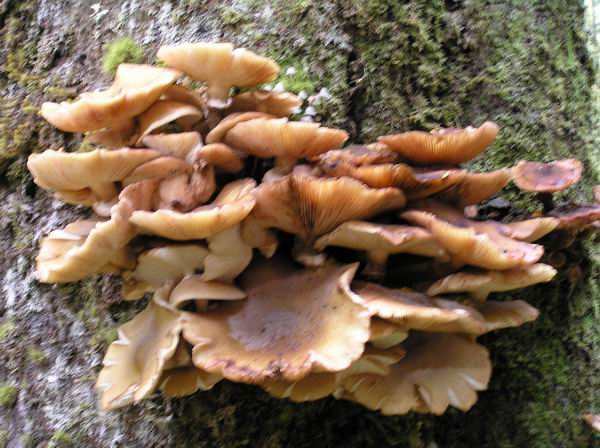 Fungi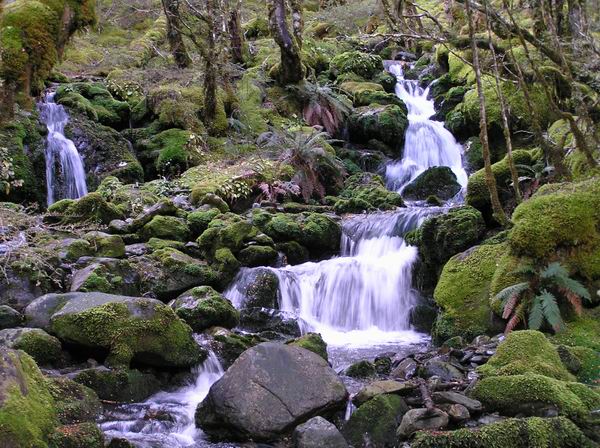 "Tumble Brook"
John Tait to Cupola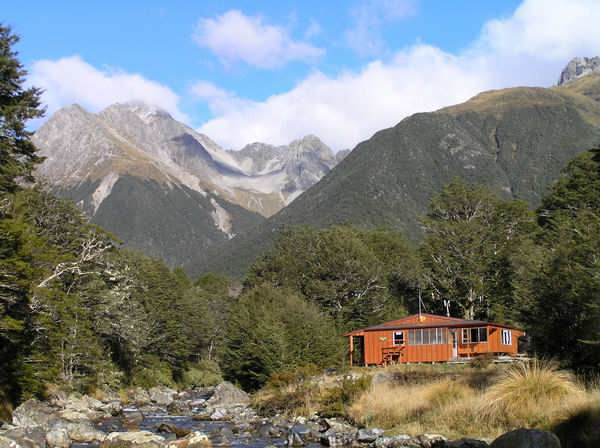 John Tait Hut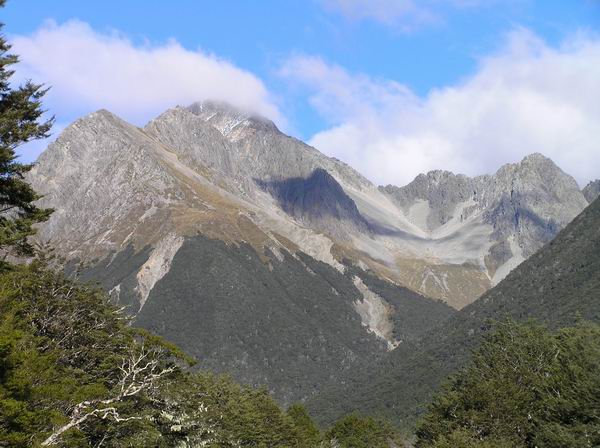 Mt Travers
We walked alongside a blue and clear river with huge boulders scattered throughout. Under our feet was a mossy carpet and Robins hopped around our feet and came up close to say hello. After twenty minutes along the flat main track we turned in towards Cupola. Gradually climbing for one hour we then came to a beautiful, very deep chasm with a fast and furious waterfall cascading down it. Next we came to a picturesque clearing with a wide river and mountains as a backdrop, surrounded by Beech forest. Deer prints were abundant on the next section of track. For the next hour the track got steeper and steeper until the Cupola hut popped out of the bush, nestled in the trees, nicely sheltered in its sunny spot.
A short distance above the hut the bushline stops and the wide open views make the hard work worth it. What fantastic basin views with rugged and sharp mountains all around.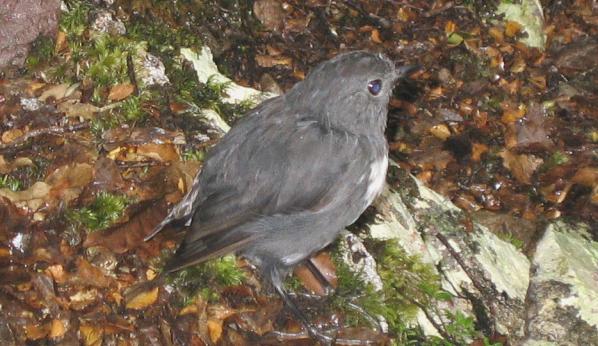 Bush Robin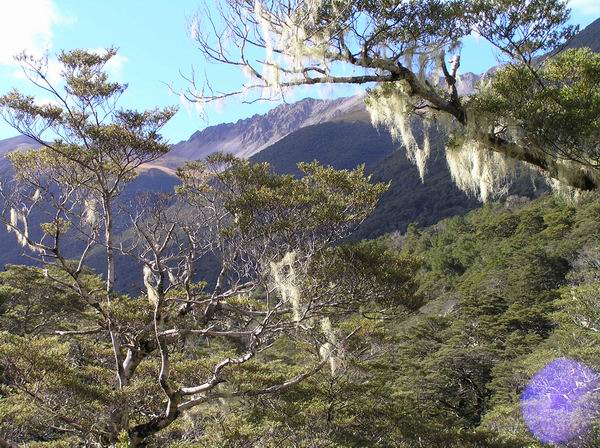 "Old Man Trees"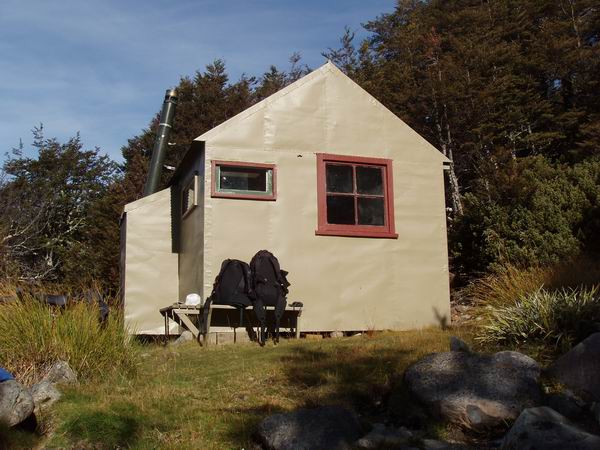 Cupola Hut (Richard Leppard Photo)