Tramps : Parachute Rock & St Arnaud Range
Updated 1st February 2011
By Peter Kemp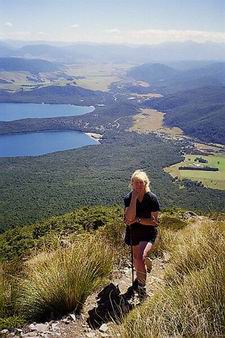 Parachute Rock
Parachute Rock & St Arnaud Track
How do we get the name Parachute Rock? Well itís not really the rock outcrop where every one takes their photos. But the scree face north of these rocks. Looking up from the Valley floor at the St Arnaud Range this scree face resembles an old World War 2 Parachute.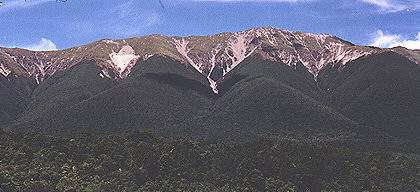 Parachute Rock & St Arnaud Range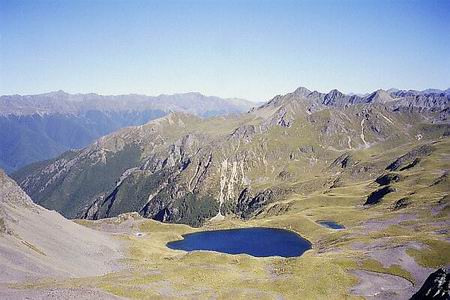 Tarn (St Arnaud Range)
The St Arnaud track starts at Kerr Bay and zig zags up through the beech forest. Take the time to stop and look up into the tree canopy. You may be rewarded a view of a Kaka fossicking through the treetops. After what seems an eternity the track finally emerges through the tree line and the views start to appear. Most people stop at the outcrop of rocks just above the tree line. The views from the rocks are indeed very impressive. Itís worth the effort to climb up through the very steep tussock to the ridgeline. Once you have regained your breath, scramble south along the ridge for twenty minutes to a high point. From here you have views of the head of the lake and the Mt Robert Range. On the Rainbow side of the range the high basins are dotted with beautiful tarns and further east the rugged Raglan Range. To the North the Red Hills and The Wairau River cutting through the Wairau Valley. To make the most of this trip allow 5-8 hours return to Kerr Bay.
Alternative Trips For Experienced Trampers
For the fitter tramper you may wish to tramp along the ridge out to Tophouse Saddle (Allow 6-8 Hours). You would have to arrange someone to pick you up or phone Nelson Lakes Shuttles (Ph 547 6896) Another option is to travel south along to the ridge to the Ski Field and down the ski field road to the Rainbow Valley road. (allow 8- 10 hours) This route is best tackled in the summer when the snow has melted. Other wise you would need crampons and ice axe. You will need to be picked up from the Rainbow Valley.
Remember to carry water and plenty of warm clothing and be prepared for all weather conditions. If you intend to traverse the range fill in an intention form and forcast from DOC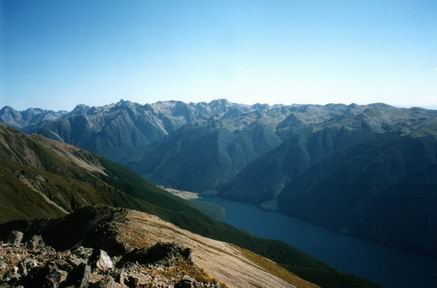 Lake Rotoiti From St Arnaud Range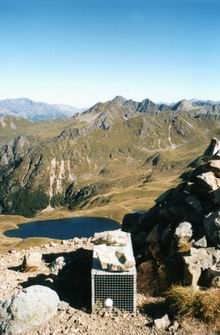 Stoat Trap (St Arnaud Range)