Tramps : St Arnaud Range Via Tophouse Saddle Parachute Rock Route
By Peter Kemp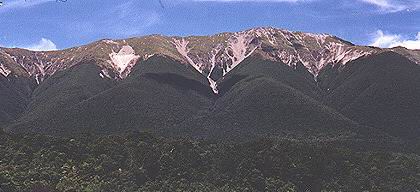 Parachute Rock & St Arnaud Range
Introduction
This route is more suitable for fit and experienced parties and should be tackled in fine weather. It is very exposed and only a small section of the route is marked. Allow 6- 8 hours to complete this trip and is best started from the northern end of the St Arnaud Range. Starting at the top of Alpine Meadows Drive. Nelson Lakes Shuttles (Phone 5211900) will transport you there for $10 per person.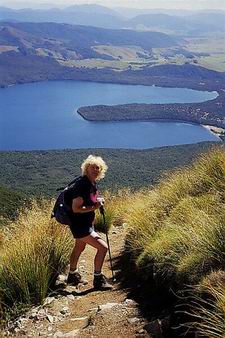 Parachute Rock Track
Tophouse Saddle /St Arnaud Range Track
From the end of the road follow the obvious fire break that runs straight up the burnt over and regenerating scrub. Someone has kindly tied plastic strips onto tree branches for you to follow. After a half hour of huffing and puffing you will reach mature bush. Follow the plastic strips up through the trees with the terrain getting even steeper until eventually you reach the top of the spur. The bush gets stumpy and thicker at this point. Donít be fooled into thinking the ridge directly in front is the correct route. This area is a nightmare to be lured into. Follow the plastic strips, which sidle around the ridge on your right through easier going terrain and then eventually up onto the main ridge and then you stumble upon the DOC trap line 15 minutes below the tree line. This is a good time to decide to carry on or return if the weather has turned bad. If you are doing this trip in reverse itís important that you pick up the Doc trap line before entering the trees. Many stories abound by those who have not followed this simple rule. The writer of this article being one person who ended up in the Rainbow Valley facing a long walk back to Top house Saddle.
The Route is very obvious once you have left the bushline. Push your way through the mature tussocks to the high point. Take the time to stop and admire the fantastic views of the Wairau Valley, The Red Hills, Raglan Range and Lake Rotoiti.Once you have gained the height of the ridge itís just a matter of following the undulating ridge until you reach the DOC sign indicating a steep scramble down to Parachute Rock and the well benched track back to St Arnaud.
There are plenty of beautiful tarns on the Rainbow side of the ridge. The highest point of the ridge is Mt St Arnaud (1683m) The views from the summit are mind blowing and so can the southerly wind when it blows in your face.
Parachute Rock and is a very popular spot for those perfect shots of the lake and The Robert Range.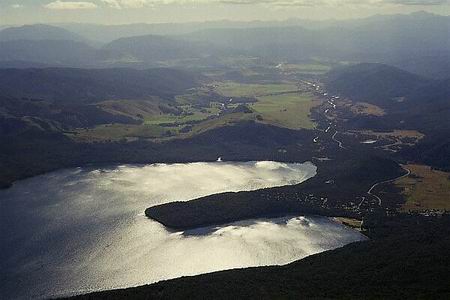 Lake Rotoiti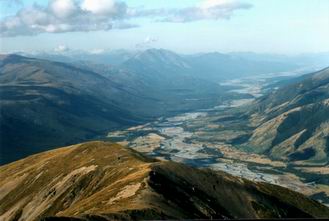 Wairau Valley