Tramps : The Anglers Walk
By Peter Kemp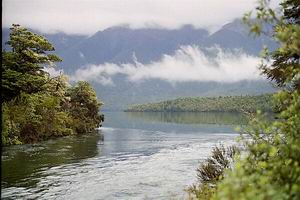 Lake Rotoiti & Buller River
The Anglers track is a delightful walk starting from the beginning of the Buller River which drains the beautiful Lake Rotoiti and finishing 30 minutes later at the bridge on highway 63. This walk can be taken at anytime of the year or conditions. The river flows fast and swift and for the keen fisherman there are plenty of opportunities to catch the wiry and elusive trout that abound in this river. But please only take what you need and return the rest for others to test their skills.
For the adrenaline junkies kayaking and rafting this section would certainly get the blood pumping.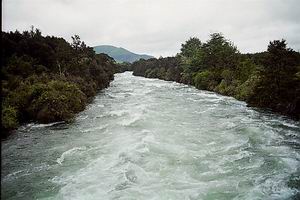 Buller River In Flood
This area is a fine example of regeneration of burnt over forest some 100 years ago. DOC have also been doing a fine job in this area with their pest trapping the bird life is returning in greater numbers and the young Koromiko and Hebe seedlings are everywhere.
To get to the start of the track follow highway 63 south out of St Arnaud. Turn left onto the gravel access road to Mount Robert. Along this road you get some wonderful views of the West Arm and inspiring views of the St Arnaud Range. Turn right before the road crosses the Buller River. The car park is big enough to park at least five coaches.
Following the highway back to the village can make a round trip. But returning back along the track can be far more rewarding as the scenery is totally different. Who knows you might catch that 10lb trout that was hiding from you earlier.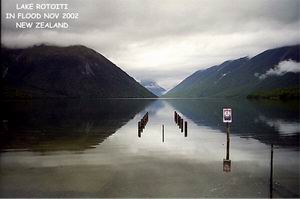 Lake Rotoiti In Flood Nov 2002