Trip Reports : Lewis Pass - Three Tarn Pass - West Matakitaki - East Matakitaki - David Saddle - D'Urville Valley - Speargrass - St Arnaud
Updated 1st March 2012
By Peter Kemp
Note - The Three Tarn Pass marked on the new Nelson Lakes National Park Map(Edition 3 2005) is incorrect. The correct Three Tarn Pass is the low point connecting West Matakitaki Valley with the Western or True Right Branch of the Maruia Valley. This is the route described in most good guide books and most favoured by trampers.
Lewis Pass - Three Tarn Pass - West Matakitaki - East Matakitaki - David Saddle - D'Urville Valley - Speargrass - St Arnaud
Of the two routes available from St Arnaud to Lewis Pass this route has to be the better of the two. The Waiau Pass route is still well worth doing but doesn't match up to the Three Tarn Pass route. This trip is for the more experienced tramper and best done in the late summer months when most of the snow has melted off the high passes. It can be completed in 6 - 12 days depending on your fitness and weather. Most trampers go from St Arnaud to Lewis Pass. But I did it in reverse. Because I was walking home. This direction is probably the better way to go. As you have the advantage of waiting at Ada Hut for the weather to improve before crossing Three Tarn Pass. Best to carry a tent as two sections of this trip between huts are very long days. Plenty of good camping spots are to be found on this route. Nelson Lakes Shuttles can pick you up or drop you off at Lewis Pass.
I was inspired to complete this trip after a course at Matakitaki Lodge some 30 years earlier as a Nelson College pupil. We spent a cold frosty night in August camped outside Downies Hut in the Matakitaki Valley. It should've put me off tramping. As it was so cold we had icicles hanging off the inside of the tent . We were too young to travel any further beyond Downies and I've always wanted to return to see what was around the next bend. After so many years of trying to find someone to go with. I decided to do it by myself. I was lucky to have 8 days of hot sunny weather and virtually the whole Park to myself.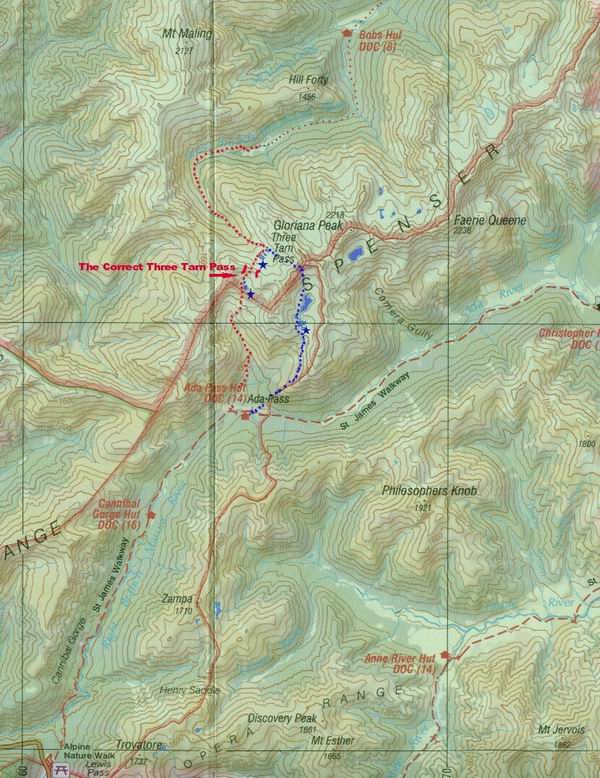 Map
Three Tarn Pass (True Right Branch Route) Marked In Red ( Used By Most People and In All Guide Books) Three Tarn Pass (True Left Branch Route)Route Marked In Blue (as incorrectly marked on new DOC Map) Blue Stars Are Great Campsites With Views
Important Route Note
The route described below from The True Right Branch Maruia Valley into the West Matakitaki is the most favoured by tramping parties and is listed in all the best tramping guide books. However DOC have put out a new Nelson Lakes National Park Map (Edition 3 2005). Which is far superior than the last published Park Map. But the map shows Three Tarn Pass in a different location linking the West Matatitaki Valley with the True Left Branch Maruia Valley. This route offers a different alternative to the route described below. A point to remember is that the marked Pass is higher and is more prone to holding ice & snow well into the summer.The Left Branch has some lovely views and campsites and also gives you good access to Gloriana and Faerie Queene Peaks.
Lewis Pass - Cannibal Hut 3 Hours
Looking from the Lewis Pass carpark at the still snow covered peaks left me feeling a bit nervous about climbing over Three Tarn Pass and David's Saddle by myself. So off down the track with a very heavy packing containing 14 days of food and wishing I had put in more training before this trip. The first day is always the worst because the pack never seems to be comfortable no matter how often you adjust the straps.
The track is well maintained and its a easy climb up beside the Maruia River passing over a few avalanche chutes which DOC have marked with signs. Funny how even in March you still look up the chutes to make sure there's nothing hurtling down at you. I really enjoy this section of the St James Walkway and I'm amazed with the regeneration of the forest since my first visit to this area in the early eighties.
My intentions were to reach Ada Hut that night. But after a cuppa at Cannibal Hut and my lack of fitness. I found it very hard to motivate myself. So after promising myself a early start the next day I stayed the night and feasted on the heaviest part of my food pack. Cannibal Hut lacks a lot of atmosphere and warmth with plenty of hot and cold mice.

Cannibal Hut
Cannibal Hut - Ada Hut 2 Hours
It's a steady climb up to Ada Hut which has many good memories for me and it's not long before I'm sitting outside on the deck with a cuppa reading the hut book and plotting my route over into the West Matakitaki Valley. How quickly two hours passed and I had to motivate myself to get moving again.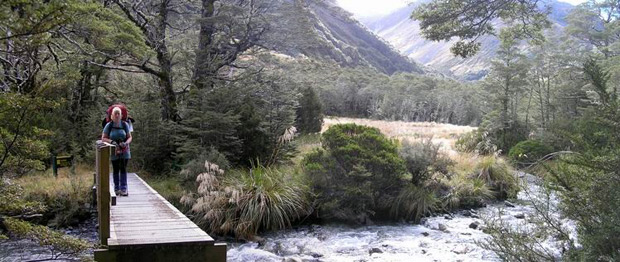 Upper Maruia River Footbridge
Ada Hut - Bob's Hut 10- 14 Hours
( A lot of people break this section into two days & camp out)
There are two routes over into the West Matakitaki Valley.Both routes have their own merits and is a matter of personal choice. The most common and fastest route which appears in most guide books is up the True Right Of The Maruia River and over the real Three Tarn Pass to the Three Tarns.
The other route is up the True Left of The Maruia River and actually over Three Tarn Pass as marked on new DOC map.This is a slightly longer route but has a lovely camping area over looking the Maruia Valley.


True Right Maruia River
The True Right Route
From Ada Hut you need to travel 5 minutes back down to the Maruia footbridge. Follow the Maruia River on the True Right until you reach the trees. Someone has tried to mark a route through the trees with plastic strips and these are soon hard to follow. I ended up dropping down into the creek bed and followed it up.This was hard work with a lot skin taken off the knees and elbows. An easier route is probably to climb a little further up into the mature forest which is where I think the markers went. It's not long before you are up above the tree line and looking down onto Ada Hut. The route gets a lot steeper and it wasn't long before I was taking three steps stopping and so on. I put my slow time down to not being fit. But a lot of people have told me since that this section is indeed very steep.
Just before the pass there's a large tarn where I instantly decided that's where I'm going to camp the night. After some time picking that perfect spot I had a major fight trying to put up my new Olympus tent. Never had a problem putting up my old Olympus tent but for some reason the new one fights me all the way. The tent had the last laugh because I woke up in the morning with the inner liner nearly touching my face. This would be one of the best campsites I've ever had. As the views were just amazing.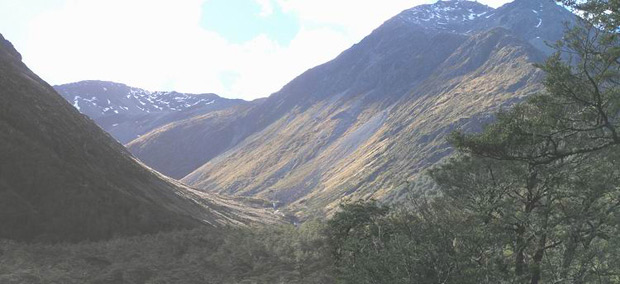 Right Branch From Ada Hut to Three Tarn Pass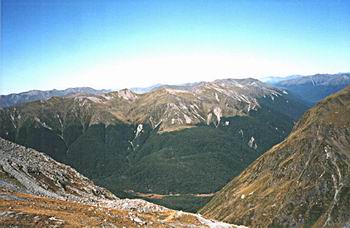 Ada Saddle From Head Of Right Branch Maruia From Three Tarn Pass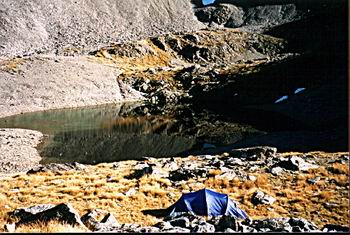 Unnamed Tarn Ada Side Of Three Tarn Pass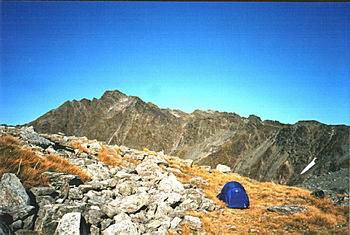 Campsite View
From the tarn you would expect the route would be on the true left of the tarn. But again the route go's up the true right and over a rocky ramp to the top of the Ridge. This is where the Route Guides make sense. The Three Tarns below you line up perfectly. It's easy to spot the route coming in the opposite direction. It's a easy scramble down a rock chute and then onto scree slopes to the Tarns. I was even lucky enough to spot three deer ambling off in front of me.
I spent a bit of time playing around on the ridge and suddenly remembered it was our wedding anniversary. Must've looked a sight as I climbing all the highest points trying to get a cell phone signal (even tried the classic one legged stance balanced on a pile of rocks) Lucky for me I got a call out and my wife only just managed to understand what I was saying.
After a hot descent to the tarns I thought a swim was in order. Decided to get the billy brewing before I took the plunge. Just started to get my shirt off and I could hear someone calling out to me. After two days on my own I thought I was going mad. It turned out to be a tramping party from the Manawatu Tramping Club. Could of been embarrassing for me but a good laugh for them. They ended up camping the night at the tarns. (Their trip report is also on this Web Site.)

Head Of West Matakitaki Valley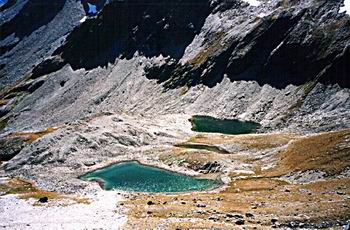 Three Tarns From Three Tarn Pass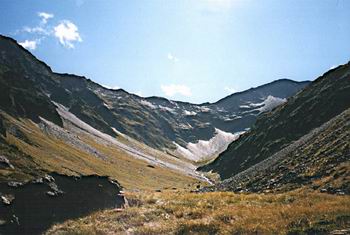 Looking Down The Head Of West Matakitaki Valley
From the Tarns it's a great view down the West Matakitaki Valley as it sweeps down and around to your right. Fairly hard traveling down the uneven tussock and rocks until you reach the flats at the bend. Generally the best travel is on the true right or in the river bed to the bend. Just around the bend you come across a moraine wall. This is a good point to leave the river bed and cross over to the true left. As the river soon tumbles into a small gorge and waterfall. Climb up over the obvious moraine wall above the true left of the river and down through the trees back onto the river flats below. Watch out for the bog holes on this section. Cross back over to the true right and you will soon pick up the marked track to Bob's Hut. This is a well marked and maintained track and a point to remember in bad weather you have to cross the Matakitaki River just before the Bob's Hut. I crossed it in normal flows and thought at the time I wouldn't want much more water flowing through here. There's a good camping spot next to the crossing and it looks if it's had plenty of use in the past.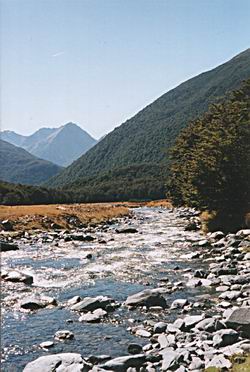 Maling Creek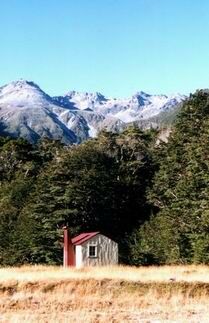 Bob's Hut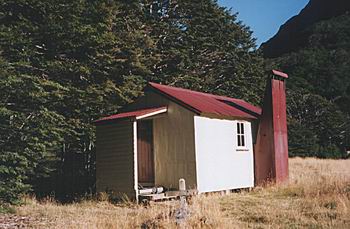 Bob's Hut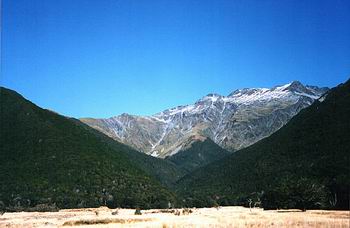 Gloriana Peak
Bob's Hut - East Matakitaki Hut 3 - 4 Hours
I could've happily stayed a few more days at Bob's Hut. As there a few day trips you can do from this spot. From reading the hut book this area receives more than it's fair share of rain. Plenty of parties have been trapped here because of bad weather. Who ever picked the hut location couldn't have got more right. Some wit has even built a grave for Bob outside the hut door.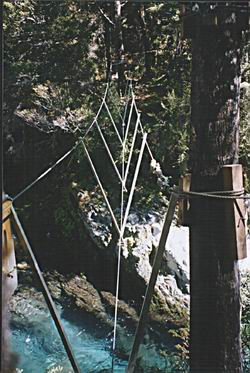 Three Wire Bridge Matakitaki Forks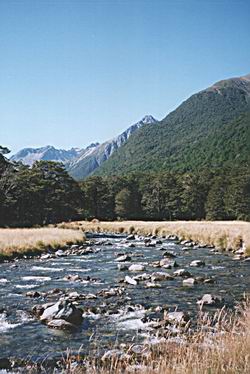 East Matakitaki River
The track through to East Matakitaki is well marked and maintained. Tramping through both of these valleys is just delightful and you will want to return. The three wire bridge crossing at the Matakitaki Forks is a bit daunting and I think next time I will just wade through the river. As you travel up beside the East Matakitaki you often break out into clearings and get a glimpse of David's Saddle in the distance. The East Matakitaki Hut is ideally situated next to the river with a pleasant view up the valley. This hut is the old basic Forest Service Hut and still has the open fire. The old hut next door has seen better days but would be grateful shelter in a storm.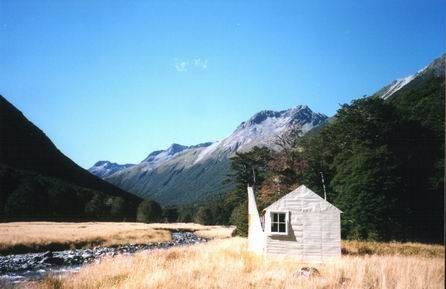 East Matakitaki Hut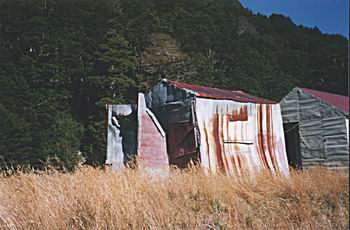 Old East Matakitaki Hut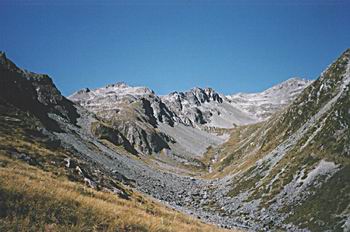 Head Of East Matakitaki Valley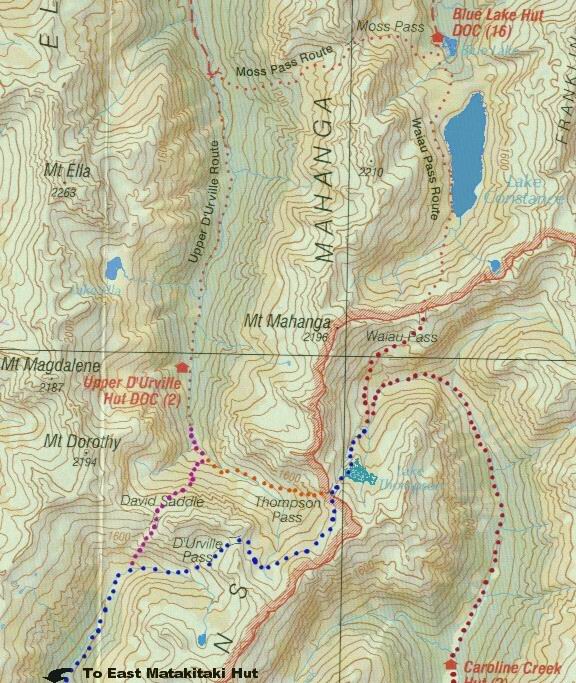 David Saddle Map
East Matakitaki - D'Urville Bivy 6 - 10 Hours
The marked track stops at the hut but it's easy to follow the old track up the true left to David's Saddle turn off with a little bit of bush bashing. I did this section in one day but next time would choose to camp just before climbing over the saddle. There are plenty of good camping sites all the way up the valley. After the tree line the choices for camping spots run out. As the terrain is rocky lumpy tussock country. Get an early start and allow plenty of time to complete this section. From reading the log books in both huts a lot of parties have run out of daylight and been forced to camp out sometimes only just metres from the hut.

East Matakitaki River & David's Saddle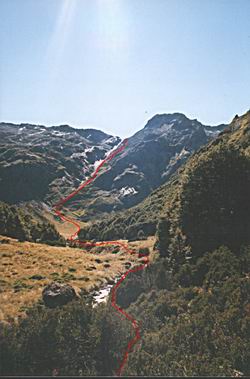 David's Saddle Route
From the river bed looking up at David Saddle can be a bit daunting. The best route is up the spur on the true left or right of the creek bed. Don't be tempted by the easier looking route in the dry creek bed as you soon run into dry waterfalls. It's not as hard as it looks and takes about 2 hours to climb the saddle. Even in March there was still snow in the rock gut near the top. Take your time to look around as you get some good views up into the head of the East Matakitaki and back down the valley, plus the surrounding peaks. The views down into the D'urville Valley and across to Moss Pass are just beautiful.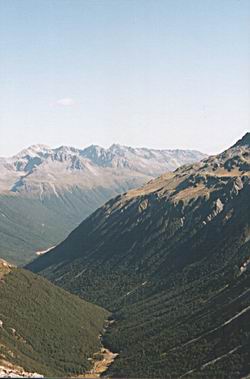 East Mataktaki Valley From David's Saddle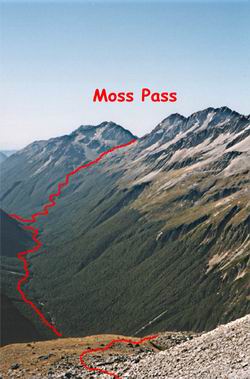 Moss Pass From David's Saddle
From David Saddle there are few cairns which are hard to follow down into the D'urville Valley. Don't be lured into heading down into the stream on your left as I did. Luckily I suddenly remembered that almost every side valley always turns out to be a hanging valley with a high waterfall. This one didn't prove me wrong.
Starting from the top of the Saddle go straight down until you reach the tree line. Pick up the bright orange marker which indicates the marked track to the valley floor. It's rather steep in places but safe travelling.When you get to the D'Urville River the marked track follows the river on the true left for about one hour to the D'urville Bivy.Have a look up the side stream as you cross it and you will realise why I've advised you not to follow the stream down. D'Urville Bivy is a nice cosy two bunk shelter set amongst the trees. It has been recently moved up a 100 metres from where it sat in an old avalanche chute.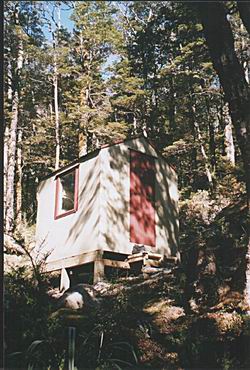 Upper D'Urville Bivy
D'Urville Bivy - Ella Hut 2-3 Hours
From here on the rest of the route is well marked and easy to travel. The D'Urville Valley is beautiful and not too crowded. It's possible to change your route and climb over Moss Pass into the Sabine Valley (if you still have the energy). Ella Hut sleeps 16 people in two rooms and is situated right next to the river.
Ella Hut - Morgan's Hut 3 - 4 Hours
It's nice stroll down to the new 16 bunk Morgan's Hut. But be warned some of the side streams can come up fast in heavy rain. DOC have done a wonderful job constructing this new hut. I was lucky enough to be there only days after it was opened. It's situated in a large clearing just off the main track and about a kilometer up from the old hut site.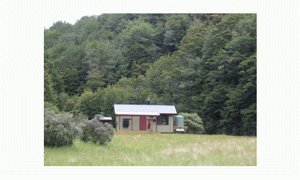 Morgan's Hut
Morgan's Hut - D'Urville Hut 3 - 4 Hours
Again another easy stroll down to D'Urville Hut. But be aware of the side streams in heavy rain. The 10 bunk D'Urville Hut has a lot of character and is ideally located on the edge of Lake Rotoroa.You can arrange to have the Water Taxi to pick you up from the jetty. Be warned the hut can be crowded with fisherman and hunters. They are normally good company. But the food they boat in can make drool and if you look hungry enough they might treat you to a good feed. The phrase "I haven't had a decent meal for seven days" normally works for me.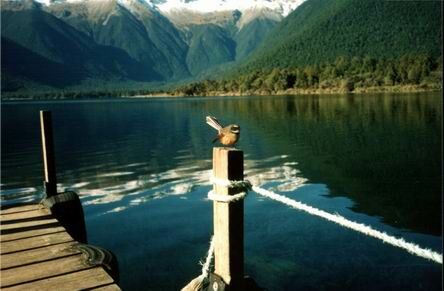 D'Urville Jetty ( Lake Rotoroa)
D'Urville Hut - Sabine Hut 2- 3 Hours
The track around the base of Mt Misery seems to go on for ever. I managed to spook a large stag near the Misery Jetty. Don't know who got the bigger fright him or me. The new Sabine Hut sleeps about 30 in two bedrooms.Althought there were only about 10 others staying that night I chose to camp on the beach.
Sabine Hut - Speargrass Hut 5- 6 hours
There are two other ways you can exit the Park from this point. Up over Mt Cedric to Angelus Hut or call the Water Taxi. There's a radio in the hut or use your cell phone (vodafone only).
The track quickly leaves the shores of Lake Rotoroa and climbs steadily for one hour before reaching a saddle. Then it's sidles around gullies and over rocky tree root country until you come across a well formed track. The board walk ending with a seat on a viewing platform really blows you away. On a good day you get some great views. Speargrass Hut is situated in a lovely tussock clearing. It only Sleeps 12 and can be quickly crowded in the summer season.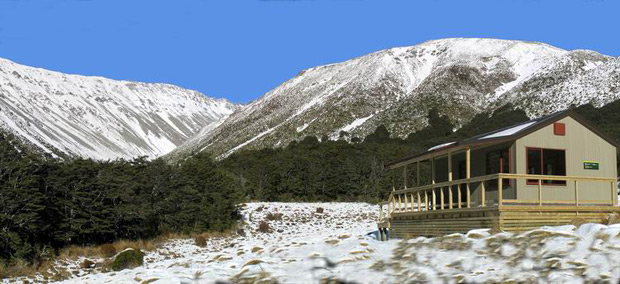 Speargrass Hut
Speargrass Hut - Mt Robert Carpark 2- 3 Hours
This section is easy until the last 30 minutes. You have to climb out of Speargrass Creek and up to the Mt Robert Carpark.Normally this is not a problem but after 8 days seems steeper than what it really is. From the carpark it's easy to get a cell phone call out to Nelson Lakes Shuttles.
A cruel twist to the end of my trip was that unknown to me Trish had gone out for dinner and dropped her cell phone. When I tried to ring her to pick me up from the car park my dreams of a ride home and a cold beer were quickly dashed. I was nearly crying as I trudged down the road to St Arnaud.
Over all this would have to be one of the best trips I ever done and one I would repeat again in the next couple of years.