Trip Reports : The Alpine Route - Mt Richmond Forest Park
Updated 1st February 2011
By Amanda Goodall
September 2005


The Richmond Range
The Alpine Route - Lee Valley to Goulter Valley - Mt Richmond Forest Park
Lee Valley to Slaty Hut
It was a misty start to the day as we found the sign marking the beginning of the track at around 10am . We weren't too worried about an early start as we had a relatively short walk to reach Slaty Hut.
It was decided early on that we would take the "cheats" way and gain access up the Lee Valley through forestry roads that would get us to within a 1 ½ hour walk of Starveall Hut. The idea of walking 6 hours from the Hackett carpark was not an appealing one and when we arrived at Starveall Hut by 11.30am we were feeling pretty pleased with ourselves.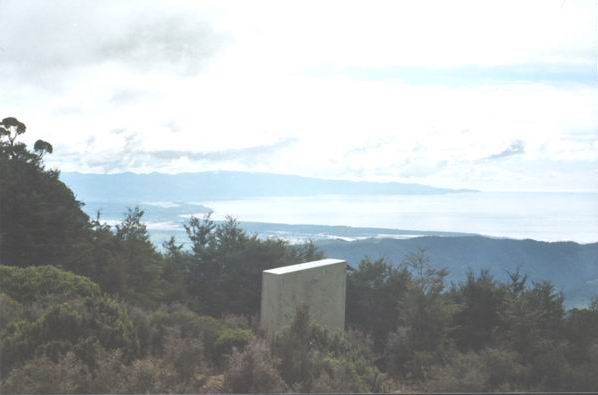 Tasman Bay From Starveall Hut
After an early lunch, out came the over-trousers as there was quite a ferocious wind blowing through the saddle around the hut. The route climbed steeply through stunted bush and over rocky outcrops for an hour or so and then gained the tussock-covered ridge leading to the sign-posted junction pointing the way to Slaty Hut. We had been to the summit once before on a more pleasant day so opted for a few quick photos and then dropped into the bush for a break from the wind.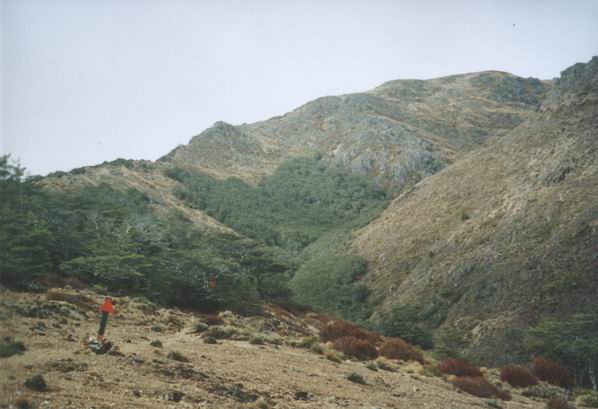 Ridge From Starveall Hut Towards Slaty
The forested saddle on route to Slaty crossed a couple of clearings with some good views across to the Rintouls and Purple Top. A steady climb and then sidle led back into open tops and around the side of Slaty Peak to Slaty Hut nestled right on the bushline. Slaty is a great wee hut in a really pleasant setting and has a wood shed fit for a king.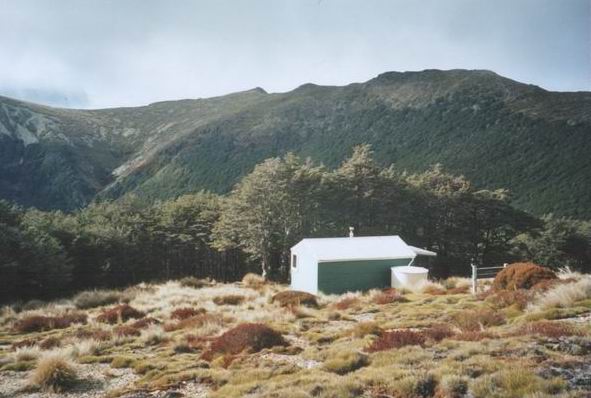 Slaty Hut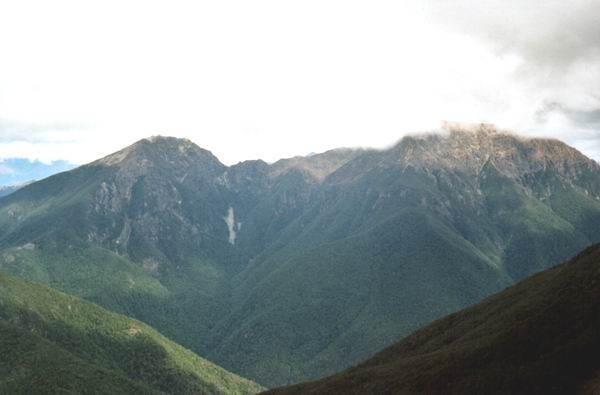 Little & Big Rintouls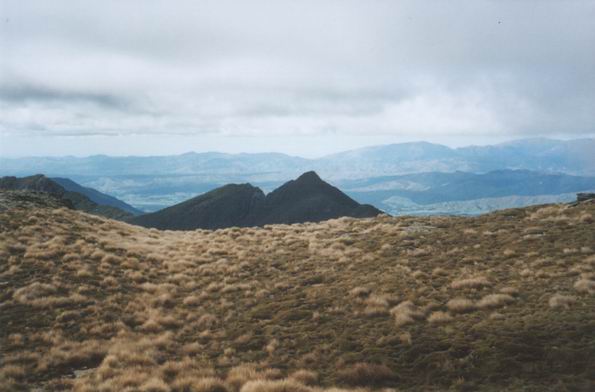 Waiau Plains
Slaty Hut to Old Man Hut
We couldn't believe it when we stepped outside the hut in the morning and felt snow flakes falling! After a sidle under Slaty Peak we were buffeted with a strong wind when crossing a saddle but 30 minutes further on we stopped for morning tea in a relatively sheltered spot. From here we got good views across the Wairau Plains towards Blenheim and after some photos were soon descending into a little bush saddle before reaching Ada Flat. Crossing Ada Flat is pretty easy going and gives some more great views. In the last little patch of bush before Old Man Peak we were forced to rug up in all our warm clothes as the weather had suddenly closed in again. Any thoughts of lunch had gone out the window as it was now freezing cold.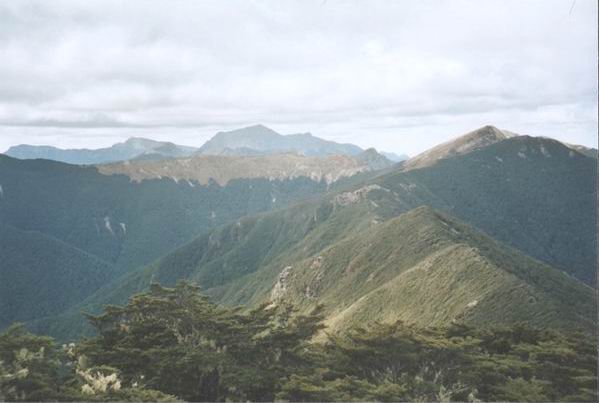 Ada Flat & Old Man On The Right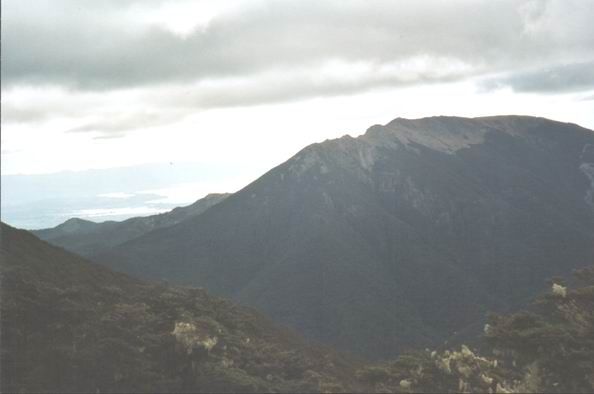 Mt Starvell & Tasman Bay
When we emerged from the bush the visibility was pretty poor and it was a case of stopping at each pole and trying to spot the next one in the gloom. Thankfully, it didn't seem to take long to reach the sign-posted junction and water tank at the top of Old Man, handy for a drink stop. The route followed the ridge which became a bit scrambly in places and eventually dropped off as the side-track began down to Old Man Hut. This track drops a lot of height but the thought of a warm fire after a day of wind and snow showers was a very welcome one. Old Man Hut is set in a large grassy clearing and would be a lovely setting on a warmer day than this one!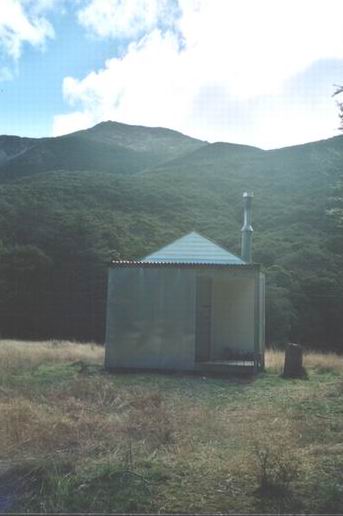 Old Man Hut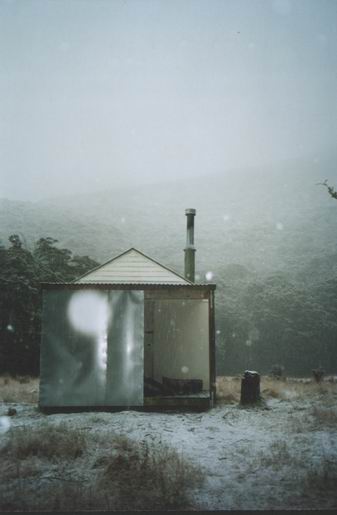 Then The Snow Came
That night it blew an absolute howling gale around the hut and after a relatively sleepless night we rose in the morning to decide whether in fact we should continue over Mt Rintoul to complete the Alpine Route. A very cold wind was still blowing and snow showers continued to fall. Add to that the big pile of dry firewood and we made the call to stay put and possibly do a day-trip up Little Rintoul in the afternoon if the weather cleared.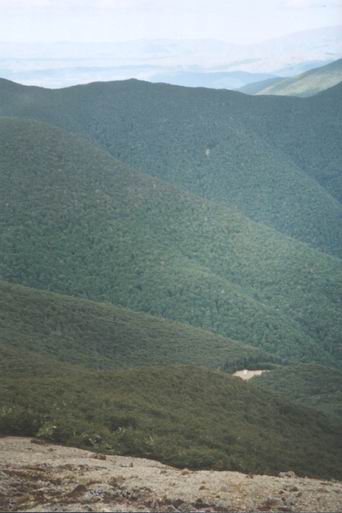 Old Man Hut In Clearing From Little Rintoul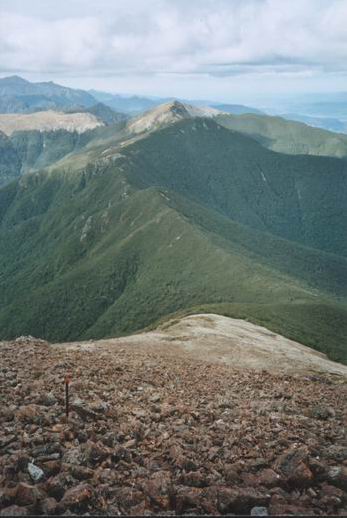 Ridge Between Liitle Rintoul & Old Man
I spent a leisurely morning watching a mother and extremely well-fed baby goat (nicknamed Lard Ass) grazing around the clearing outside the hut. After lunch we threw some stuff in a pack and set off for the bushline with hopes of getting some good photos. Once back to the main ridge the track climbed and emerged onto blocky scree with poles leading the way to the top of Little Rintoul. From the top we got some awesome views back towards Mt Starveall and Tasman Bay as well as east towards Mt Tapuae o Uenuku. Mt Rintoul looks rugged and imposing from close up and we were rapt to make it this far and get some fabulous views. Then it was back to Old Man Hut for a second night.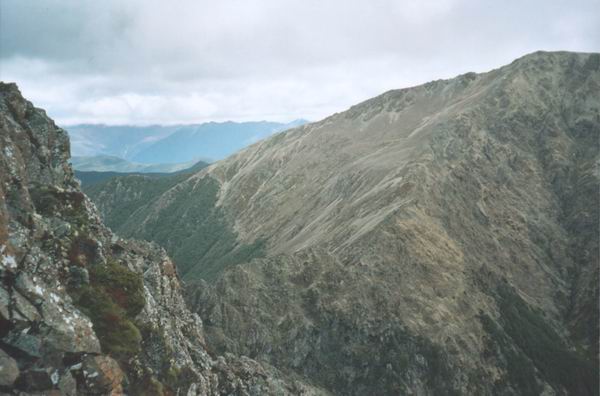 Mt Rintoul From Little Rintoul
Old Man Hut to Mid Goulter Hut
Overnight we heard a bit of rain on the roof but when morning dawned were amazed to find an inch of snow on the ground and it was still snowing steadily! As it turned out we could have gone over Mt Rintoul the day before but would have had a miserable day on the tops today. Instead we opted to drop down the route into the Goulter Valley which proved to be slippery and slow going with some large windfalls further down. Eventually we reached the Goulter River for an easy but cold crossing and enjoyed the better track in the main valley. An hour or so down river we reached the Mid Goulter Hut which is a really tidy hut in a smallish clearing with good views toward Mt Patriarch with its fresh covering of snow.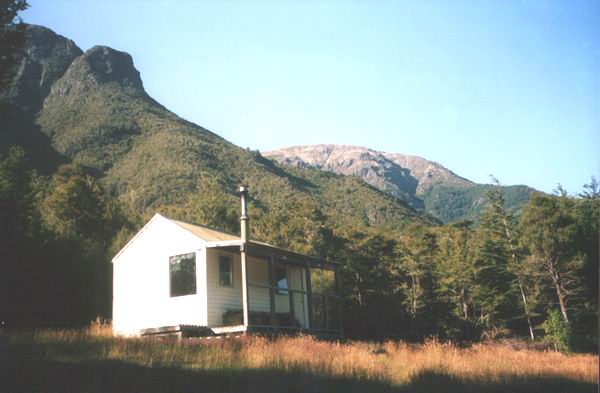 Mid Goulter Hut & Mt Patriarch
Mid Goulter Hut to Goulter Road-end
Down-river from the hut the valley widened and crossed many open river flats beside the river. The day dawned beautiful, warm and sunny and this part of the walk was extremely enjoyable. We had plenty of time to enjoy the sunshine as Peter from Nelson Lakes Shuttles was not due to pick us up from the road-end until 3.30pm .
Half an hour before we reached the Lower Goulter Hut the clouds started to roll in again and with precision planning, 5 minutes after we reached the hut a huge hail storm belted down outside. The ground around the hut turned white so the idea of having a wash in the river no longer seemed like a good one and we instead polished off what was left of our food and had a hot chocolate. The temperature outside must have dropped by 10 degrees in about the same number of minutes!
Knowing it was a 45 minute walk to the road-end, we left it as late as possible before leaving as it was still about 5 degrees outside and there's no shelter at the car park. Peter from Nelson Lakes Shuttles duly picked us up and delivered us to the pub in Renwick where our ride back to Nelson was waiting to meet us. Not a trip that went according to plan but enjoyable nonetheless.
Photos by Amanda Goodall