Trip Reports : Flora Carpark & Mt Arthur Tablelands
Updated 1st February 2011
By Peter Kemp


Flora Carpark
Introduction
Flora Carpark is the gateway to Kahurangi National Park New Zealand. There are a number of tramping options to choose from (see below). From spectacular one day walks right through to multi day tramps. This park offers challengers for the novice tramper on formed tracks to the more experienced tramper with wilderness areas where there are no tracks or huts.
Mt Arthur and Gordon's Pyramid are best avoided in low cloud or foggy conditions. I know of one case when a experienced hunter stepped off a bluff on Mt Arthur.Sadley he didn't survive the fall.
Mt Arthur and Flora Huts are ideal overnight huts for family groups or those who are just starting out.
Salisbury Lodge is a good place to base yourself and spend a couple of days exploring the sink holes and gold mining sites scattered around the Tablelands.
Unfortunately it's not safe to leave your car in the carpark over night. If you are leaving it there for a the day make sure you remove any valuables.
There is no longer a public phone at the carpark. It had to be removed because of vandals. However mobile phones receive a good signal. It's possible to get a signal from Mt Arthur, Gordon's Pyramid and Mt Peel.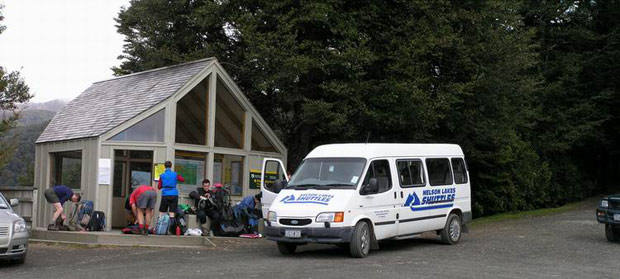 Day Walks From Flora Carpark For The Average Tramper
Flora Hut 1 hour return
Gridiron Shelters 3 Hours return
Cloustons Mine 5 hours return
Mt Arthur Hut 2 hours return
Mt Arthur 6-8 hours return
Mt Lodestone 4 hours return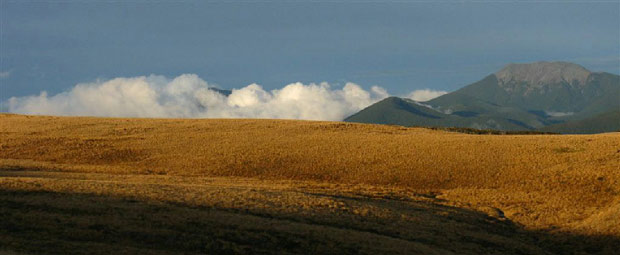 The Tablelands and Mt Lodestone (Phil Craft Photo)
Multi Day Walks From Flora Carpark For The Average Tramper
Salisbury Lodge 2 days
Gordon's Pyramid - Salisbury lodge - Flora Carpark
Balloon Hut 2 days
Asbestos Cottage - Cobb Valley Road 2 days
Salisbury Lodge - Balloon Hut - lake Peel - Trilobite Hut - Cobb Valley 2- 3 days
Salisbury Lodge - Splurgeons Rock Shelter - Karamea Bend Hut - Out To Rolling River Via Wangapeka Track 6-8 days
Salisbury Lodge Splurgeons Rock Shelter - Karamea Bend Hut - Out To Karamea Via Wangapeka Track 6-8 days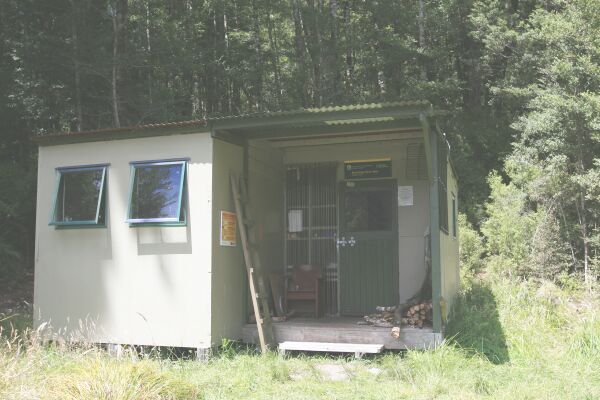 Roaring Lion Hut (Photo Stephen Story)
Multi Day Walks From Flora Carpark For The Experienced Tramper
Mt Arthur - Ellis Basin Hut - Out To Baton Valley 2 days
Salisbury Hut - Splurgeon's Rock Shelter - Baton Saddle - Flanagan's Hut - Out Via Baton Valley 3-4 days
Salisbury Lodge - Splurgeons Rock Shelter - Karamea Bend Hut - Roaring Lion Hut - Roaring Lion Valley - Breakfast Creek - Cobb Valley 6- 8 Days
Salisbury Lodge - Trilobite Hut - Fenella Hut - Lonely Lake Hut - Adelaide Tarn Hut - Boulder Lake Hut - Bainham 7 - 10 days