Trip Reports : The Heaphy Track
Updated 1st Febraury 2011
By Joost de Gouw & Betsy Andrews
10th September 2004
Photos By Joost de Gouw


The Heaphy Track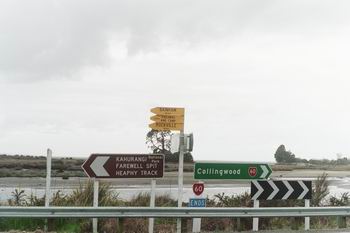 "peter was kind enough to stop for a picture on the drive to the trailhead" ( Photo Betsy Andrews )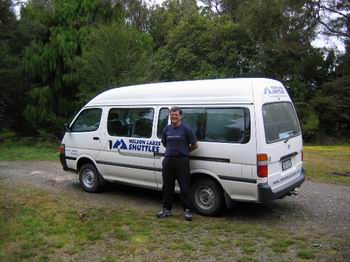 Peter The Nelson Lakes Shuttle Driver At Brown River
The first day was mostly drizzly and we made it to the Perry Saddle hut. The last hour or so we hiked in the dark, but the trail is so good that it wasn't a problem using our head lamps.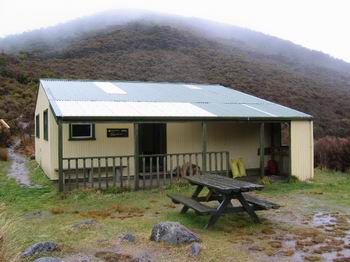 Perry Saddle Hut
The second day started drizzly but by p.m. it was pouring rain, and that's when we had to wade across some creeks. It was also a long day to Mackay hut.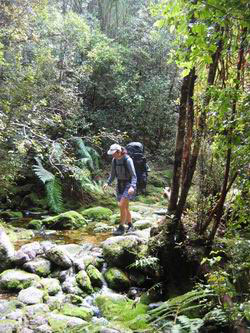 Betsy Andrews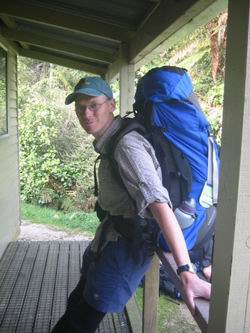 "joost de gouw hanging out at lewis hut ( Photo Betsy Andrews )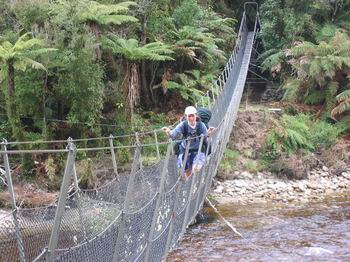 Betsy Andrews Crossing The Gunner River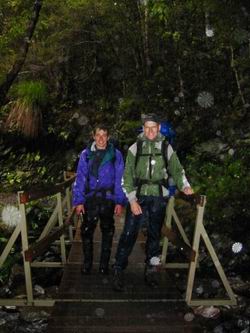 "it was a beautiful hike, but the question definitely arose around the fire on night #2:is it the west coast or the wet coast?" ( Photo Betsy Andrews )
It rained and it rained and rained and rained,
The average fall was well maintained;
And when the tracks were simply bogs,
It started raining cats and dogs.
After a drought of half an hour,
We had a most refreshing shower;
And then the most curious thing of all -
A gentle rain began to fall.
Next day was also fairly dry,
Save for the deluge from the sky,
Which wetted the party to the skin;
And after that the rain set in!
The third day was dry and sunny and we had some great views down the Heaphy River. We made it to the Heaphy hut that day. The last day started out okay. Fortunately we were at the trailhead by the time it started to rain really hard.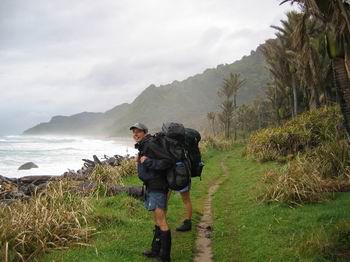 Coastal Section Of The Heaphy Track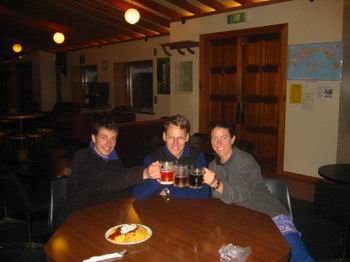 "a fabulous ending to a fabulous walk!" The Karamea Tavern ( Photo Betsy Andrews )
Our group consisted of Betsy Andrews, Vas Petrenko and Joost de Gouw.